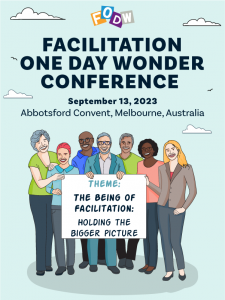 The Being of Facilitation – Holding the Bigger Picture
Be energised and inspired by a range of wonderful facilitation offers at this year's One Day Wonder! http://onedaywonder.org.au/program/ 
Wednesday 13 September 2023 (8.30am for a 9am start. 4pm close)
Melbourne's One Day Wonder is a great professional development day – come as a team and see if your employer will support you.
And this year's event will have Matt from Sketch Group as graphic recorder! Matthew Magain is an award-winning designer, illustrator, author, speaker. As the CEO of Sketch Group, he has a passion for helping people communicate better using visual language.
This interactive event supports emerging and experienced facilitators, with great opportunities to receive peer support and build new connections. 
Join us to experience the passion in the room.
Less than three weeks to get your tickets! BOOK NOW
What participants told us last year:
Learnings: 'the subtle art of listening'  'simple ways to build rapport!'  'learnings to share'
What participants valued: 'meeting great people'  'got something from every session!'
Great venue, Abbotsford Convent, 1 St Heliers Street, Great company and lunch provided all for only $110. 
Note – IAF Australia has offered to fully support the attendance fee of five emerging facilitators who may be struggling financially. Email us now to see if you are eligible for the last remaining sponsored tickets!
See you soon! Regards, FODW organising group Why not buy your ticket now!
https://www.facebook.com/facilitationonedaywonder/